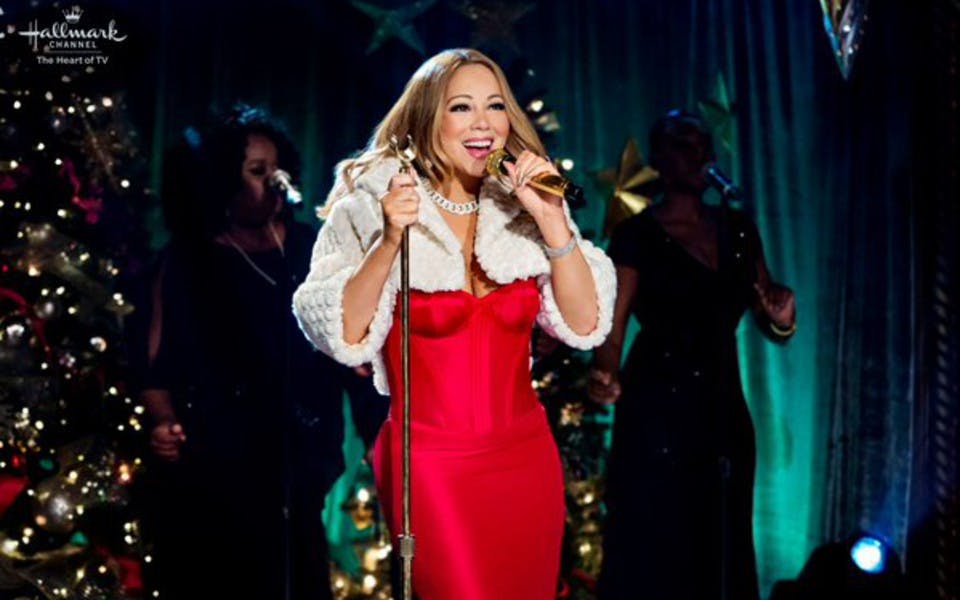 Christmas With the Kranks: A Miraculous Tour of Made-for-TV Movies
Christmas movies used to be good. Even the bad ones, which is why it was a preternatural blessing when Mariah Carey released the highly anticipated teaser for her holiday movie and directorial debut, A Christmas Melody. The elusive chanteuse has graduated from taking calls on the Home Shopping Network to directing, producing and starring in a Hallmark Channel original. Veiled in forgiving Vaseline, she has a face-off with Mean Girls' Gretchen Weiners. Except the anointed shepherdess of the #Lambily fails to fool the internet sleuths – the pair's eye lines don't match in the clip, and Weiners is crystal clear, while Carey is haloed in a mystifying fog. It had fans asking if they even filmed the scene together.
This is Christmas magic at work, people, and Hallmark's network heads are tenting their fingers together as we speak, praying audiences will bear witness to Mariah's festive train wreck. You can be sure I'll be tuning in. These Christmas B movies, produced for Middle-American soccer moms, perpetuate the festive spirit. Holiday blockbusters are dead on arrival. Made-for-TV movies, on the other hand, are where former primetime celebs go to die – the final resting place following eviction from Dancing With the Stars. They need make no apology should they flop. Yet they rarely do. ABC Family's 2012 entry, The Mistle-Tones, sounds laughably awful. And it is. The film features Tori Spelling and a mall performance by an a capella group composed of rejects from Glee. It's bottom-of-the-barrel stuff, but 3.16 million people sat through it, making it ABC Family's third most-watched original movie in that year's 25 Days of Christmas event.
1999's A Season for Miracles was also hatched for the Hallmark Channel and bears the weird pedigree of the "homeless for Christmas" subgenre. These features are poverty porn packaged as cinematic event and A Season for Miracles is a paragon of the genre. It's pissing down and Emilie Thompson is running on empty, desperately searching for a place to stay when she rolls into – get this – a town called Bethlehem. She's with child; nay, children who belong to her sister, and on the run. Their real mum (played by Laura Dern) is a drug addict, forcibly hospitalized during the holidays, so sympathetic Emilie has scooped up the kids before the long arm of foster care can reach them.
The piecemeal family makes a pit stop at a highway diner for a quick bite, where an angel who moonlights as a waitress (played by Patty Duke) tells Emilie that even though it's torrential outside and there is zero chance of her finding a motel at this time of night, wouldn't the kids just love to see the cute, abandoned Victorian house in downtown Bethlehem? Undeterred by the ill-considered recommendation, they exhaust the last petrol fumes on their way to find the house. Upon arrival, Emilie feels around the front door. Lo and behold, someone has left keys in the mailbox (the diner angel?), and she decides to illegally squat with the kids.
The next morning, she is somehow mistaken for the returned heir of the property. Like, neighbours just show up with muffins and think she's back – decades later and looking different, with two kids – from a long holiday. It really pushes the envelope in terms of what is logically acceptable, and it's not alone. There was a holiday flick from 1947 that followed the same story line. It Happened on Fifth Avenue starts out with a TMZ-type tour rumbling down Fifth Avenue where a crowd is told that, "to your right, the second richest man in the world has a mansion." Then the camera pans down to the homeless guy who finds a convenient hinged panel on the fence, shimmies down a manhole and, voilà! He's in. Since the rich owner is conveniently out of town, he makes himself right at home.
Watching a few of these, the definition of 'guilty pleasure' springs to mind. I can't think of anything more perverse than enjoying B movies where C-list has-beens act out the very real problems of homeless people who have nowhere to go for Christmas. For, while these characters' problems are solved by diner angels, we face a more staggering reality: government figures from 2014 suggest that 90,000 children in the Britain will spend this Christmas homeless.
By far the best and most out-of-touch film is 2006's Home By Christmas. It traces the familiar story arc of perfect to miserable-and-thirsty-for-a-Christmas-miracle. The far-fetched plot centres on Julie Bedford (played by Linda Hamilton, of Terminator fame), who has it all: a suburban home, a family, free time for Real Housewifing and donating closet cast-offs to charity shops. The tables turn when she finds a note in her husband's jacket pocket that, I shit you not, says something like, "I love you, baby. See you Friday." The kicker is that the mistress is his 28-year-old gym instructor.
Bedford (whose name echoes that of Bedford Falls, the town in It's a Wonderful Life) settles for divorce. In a stroke of sheer stupidity, she decides not to take the house. She is, in the words of the dentist from 1964 classic Rudolph the Red-Nosed Reindeer, in-de-pen-dent! However, it doesn't last long. Fast forward to her being mugged in a back alley, waking up in hospital with a huge health bill she can't pay and facing a subsequent eviction notice once she returns to her one-bedroom apartment. It's most definitely a nadir in her privileged life – and right before the holidays, to boot.
She can't bear to ask for help when she rings up her ex-husband who, before she can make mention of her problems, announces he's now engaged to the gym instructor. I've heard of lightning engagements, but this lady was in the hospital for hardly an evening. So Julie Bedford, still very much independent, leaves the phone dangling from its cord and sulks about having to spend the night in her Dodge Charger. That is, until she meets a tokenistic black woman named Selma. She also sleeps in her car, but knows where she can get a cut 'n' colour for free between the hours of 2 and 6pm and which real estate agent's open house to hit on Sundays for a free sandwich and a drink.
Selma becomes Julie's homeless spirit guide. Slowly but surely, Julie's life turns around and she begins enjoying the free wine tastings and cheese samples. Morally questionable? Not when you're newly homeless. Eventually, the duo start a business after getting a real estate license from the local library. The American dream is within reach, you guys, and your step-by-step guide is this hilarious Lifetime movie.
The Christmas Choir is another forgotten gem which stars Rhea Perlman, the mum from Matilda. This time, she's swapped Café Le Ritz for the convent, and oversees a rich accountant helming a homeless shelter's Christmas choir. This movie also takes us from riches-to-rags. He's a successful businessman whose proposal to his girlfriend gets snubbed. Whilst drowning his sorrows at a jazz bar, the pianist comes over to share a drink. Then he invites him round for dinner at his place. The accountant accepts and surprise – it's a homeless shelter! Only by helping others in their struggle does Mr. Moneybags realize the true meaning of Christmas. Watching these films, I understand, is what it must feel like for the 1 per cent to reap the satisfaction of volunteering at a shelter without the icky interaction that goes along with it.
On the lighter side of naff Yuletide movies, there are a handful worth mentioning. Revel in their schmaltz, bathe in their sentimentality, and in return they'll promise a good Christmas. There are many shared tropes to be found here too. For example, what's with all of these big city types rediscovering the allure of a small town? It happens in A Holiday for Love (1996), White Christmas (1954) and The Holiday (2006), but is taken to the extreme in Christmas Under Wraps (2014), a godsend that broke Hallmark Channel ratings records with 5.8 million viewers across all demographics. It turned out to be the Adele of holiday schlock, cable's over-performing original movie of 2014 and the second most watched.
Treading that familiar arc, a has-it-all San Francisco med school grad called Lauren (Full House alum Candace Cameron Bure) applies for a medical fellowship in Boston. She doesn't get it, and is forced to apply instead to a hospital in Garland, Alaska. Lauren gets the job over the phone. Idiotically, she arrives with no warm clothes. Not long after, she realizes that Net-A-Porter and ASOS don't fucking ship to Garland. Lauren finally has her hell-frozen-over moment when a portly woman reveals the town's best-kept fashion secret: the general store sells jeans lined with sweatpant material. Rather than visibly cringe or lash out, the badly styled Lauren convincingly pretends to be intrigued by this heinous sartorial crime.
But despite embracing the fashion faux pas committed by the locals, Lauren plans to escape at all costs. Then she meets the town handyman and you watch her ovaries slowly melt one at a time. It's more predictable than Beijing's smog alert system. Right before December 24th, she lands her coveted fellowship in Boston and packs her bags, until she figures living year round on a bed of permafrost is actually where her future lies.
I get the small town vibes. I do. In the aforementioned A Holiday for Love (1996), something similar happens to Chicago executive Jake Peterson. He is sent off to his hometown in backwaters Nebraska, his job, to decide who to cut from Bean Tractor Co.'s Nebraska plant in a downsizing measure. He arrives undercover as a potential client who needs a large order of tractors, which sends the entire town into a tizzy. But when the true nature of his visit is revealed, the town turns its back on him – an honest man ostracized by a white lie. Yet before Peterson skips town, he vows to save all the factory workers' jobs. Cue fairy tale ending. I mean, I also get wanting to save families from a company exec taking jobs away, but relocating to Nebraska to head up a tractor factory is something different altogether.
Speaking of different, a standalone: computer animated, direct-to-video Barbie in the Nutcracker. The well-worn tale of a broken toy that comes to life and fights off an anthropomorphic mouse has been told six ways till Sunday. That this animated Barbie rendition rejigs the story for the Snapchat generation is a feat of engineering. It's got a meta-storytelling aspect to it, wherein Clara (Barbie's real-world alter ego) explains the story of the Nutcracker to character Kelly – a young ballet dancer with stage nerves – to cheer her up.
Tim Curry is the voice of the villainous Mouse King. The music is top-notch. Kelly Sheridan is unfaltering in her portrayal of Barbie/Clara. She overcomes every obstacle with grace and candour. She epitomizes the Christmas spirit. Oh god, just watch it. In fact, shelve all the holiday perennials and give these made-for-TV mutations a whirl instead. At the very least, you'll get a kick out of watching familiar faces languish in bad scripts and budget production. Unleash your inner soccer mom, cosy up to the festive poverty porn, and keep the change, you filthy animal!
***