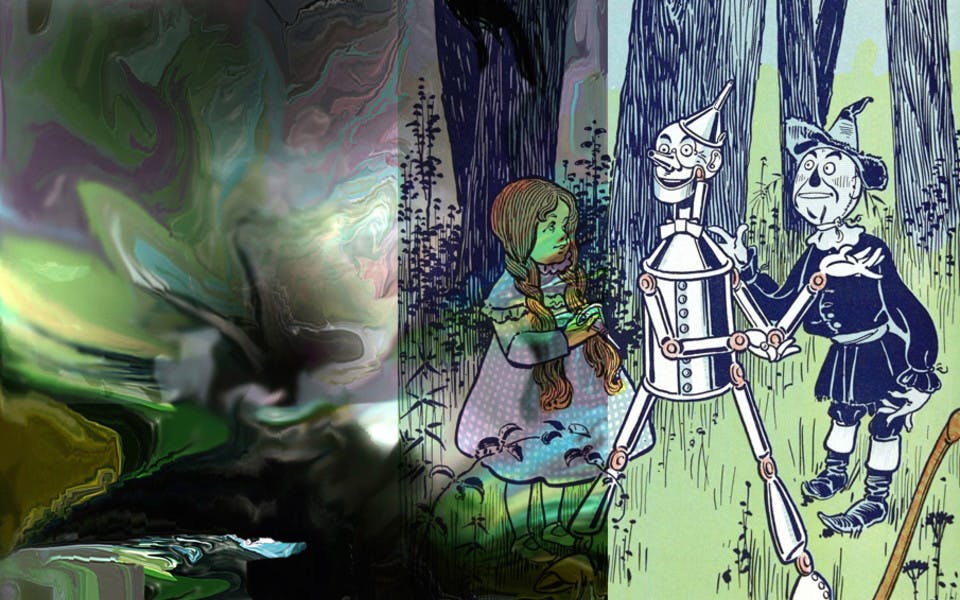 EXT. PARK – EARLY EVENING
A London park in autumn. Ducks float in fountains. Leaves blow in the breeze. A vast white tent is visible through the trees. Inside that tent is an art fair.
INT. ART FAIR – EARLY EVENING
An evenly lit, and exactly white-walled gallery stand. CONCEPTUAL ARTIST (young man, worried expression) is having a conversation with HOLLYWOOD ACTOR (drug-addled, sex symbol).
HOLLYWOOD ACTOR
Are you sure you want to do this?
CONCEPTUAL ARTIST
No… Not sure anymore, I think. No… No I don't want to, it's too dangerous.
HOLLYWOOD ACTOR
Well now you're making me think we should! And look, the owl is nodding. The owl is, like, pleased for a change.
CONCEPTUAL ARTIST
But I'm frightened.
HOLLYWOOD ACTOR
You worry too much. Stop worrying yo!
CONCEPTUAL ARTIST
Wait, did you just say something about an owl?
HOLLYWOOD ACTOR
Oh man, ever since I finished filming this angry owl has been following me everywhere, absolutely everywhere, and constantly changing shape. Except coffee shops, it won't come into any coffee shops because of all the caramel. Can you see it too? In that corner, staring, sitting on the mushroom sculpture and hooting at me? Oh hell I hope you can see it.
(There is no owl in the corner. There is no mushroom sculpture.)
CONCEPTUAL ARTIST
Sorry but, I cannot see any owls. Uh, how long is it since you last slept?
HOLLYWOOD ACTOR
Dunno. I think, maybe, May.
CONCEPTUAL ARTIST
May?
HOLLYWOOD ACTOR
I've been thinking I could become a conceptual artist, like you. No more movies, no more parties, no more drugs – maybe – only making art for the infinity cosmos. Like a mystic.
CONCEPTUAL ARTIST
Are you sure?
HOLLYWOOD ACTOR
Yeah! I want to express myself, and share all of my magical wisdom. Like, you have Macaulay just monging out in a room full of pizza hanging on strings, and James making all those horrible paintings, and as for Shia – I spoke to him last night, sort of, through this weird, visionary dance – and he's living in this art gallery and allowing strangers to have angry sex with him, or even eat parts of him!
CONCEPTUAL ARTIST
But it's hard. Making good art is really hard.
HOLLYWOOD ACTOR
That's ok, nobody cares if anything's bad anymore. And anyway, how can you tell?
CONCEPTUAL ARTIST
Ah… oh… I really don't know anymore
The artist's entourage enters and mopes around, gothically: TRANSSEXUAL PERFORMANCE ARTIST (very laconic – has not spoken in six years), REALLY STRUNG-OUT MODEL (a sad, ghostly figure), FAMOUS RAPPER (wears a Céline blouse, carries around a Le Corbusier lamp).
FAMOUS RAPPER wanders over.
FAMOUS RAPPER
Nowadays I only hangs around architects. Because, because they make other worlds. Really messed-up other worlds. And I want to make really fucked-up other worlds too. What are architects even?! That's why everywhere I go, ok, I take around thirty architects with me.
HOLLYWOOD ACTOR
Excuse me?
FAMOUS RAPPER
And who makes my music videos? Architects. Who lives in my apartment in Paris? Architects. Who watches me fucking ho's on my sex swing? A roomful of drunken architects.
HOLLYWOOD ACTOR
That's far out, but who is more noble than an artist? My art advisor – Imogen, she's also my yoga teacher, and she's a llama – she told me that in the art world you can just do whatever you want, anything, without any consequences.
CONCEPTUAL ARTIST
No, that's definitely not true, not at all. Who is this person?
HOLLYWOOD ACTOR
A llama, I told you. She told me about this artist that just trashed hotel rooms for days, taking lots of drugs, tearing up lots of books, and then once he was finished he would toss off onto a photo of a terrorist. And it was totally ok, and everybody loved him for it! She told me that artists can create their own worlds, out of all their bizarre, messed-up dreams, and become very wealthy too.
CONCEPTUAL ARTIST
I wish… but, look at me, I have nothing. And I want to try this new performance, really, however I'm too afraid.
HOLLYWOOD ACTOR
So stop acting so cowardly. We have to try this. We totally have to try this.
CONCEPTUAL ARTIST
But, it's an actual gun.
HOLLYWOOD ACTOR
So what? Look, I'm an actor, I do this shit every day.
CONCEPTUAL ARTIST
But it's an actual gun!
HOLLYWOOD ACTOR
What's the difference? Just think about what it will look like.
CONCEPTUAL ARTIST
Of course I would like to see what it looks like. With this carpet, this furniture, the patterns of my blood. But no way.
HOLLYWOOD ACTOR
Nothing is more important than expressing your inner feelings, ok. Nothing. Art – and this is what the owl is always telling me – is, like, the most hardcore form of individualism in history. It's total freedom.
CONCEPTUAL ARTIST
Just don't shoot me!
HOLLYWOOD ACTOR takes out a gun and casually shoots the artist almost in the face.
CONCEPTUAL ARTIST
Owww!
CONCEPTUAL ARTIST crumples to the tastefully carpeted floor holding his face. On the other side of the gallery stand is his exploded ear. Rather a lot of his brain is splattered expressively across the white wall.
CONCEPTUAL ARTIST
What is… where is my ear? Why would you do that?!
HOLLYWOOD ACTOR
Oh man, I thought that's what you wanted.
CONCEPTUAL ARTIST
You shot my ear off.
HOLLYWOOD ACTOR
But it looks, like, really, really cool.
FAMOUS RAPPER
Oh shit.
VERY DEPRESSED CRITIC (old and embittered, dressed in lady's jeans and running shoes) comes over, and looks at the brains dribbling down the wall (like a bowl of mince fried in garlic) and all the blood, and sighs, sorrowfully.
VERY DEPRESSED CRITIC
Ah. More zombie abstraction.
VERY DEPRESSED CRITIC looks up, miserably, at ART DEALER (smiling, carrying three phones and a very expensive bag) coming over.
ART DEALER
Humphrey, how are you? Still not fired by that newspaper of yours?
VERY DEPRESSED CRITIC
No, no. Not yet.
ART DEALER
Although I have heard it's coming, I have heard it's coming. But what a happy surprise to see you Humphrey, it brings me all the way back to our university days.
A slight smile alights on VERY DEPRESSED CRITIC's face, but soon flutters away.
ART DEALER
Now, I'm certain you're dying to tell me what you think.
VERY DEPRESSED CRITIC
If there is one thing this art fair does not need at all, it's any more zombie abstraction. And yet here we are… how boring. What an unimaginative mockery. How many thoughts, how many hours have been lost forever that this might happen – whatever it is? And this young chap, has he really been shot? Who will care?
CONCEPTUAL ARTIST
Oh…
ART DEALER
Oh Humphrey, not this old tripe again.
VERY DEPRESSED CRITIC
But then, isn't everything awful? Isn't this world of ours truly awful? Everything, so narcissistic, so revoltingly, horridly self-involved. Look at all that, that 'art fair art' – those shimmering, many-coloured paintings, those shallow, mirrored sculptures – abominable nonsense. And of course… bleurgh!
(Shuddering in disgust at his next thought, VERY DEPRESSED CRITIC throws up a little into his own mouth.)
VERY DEPRESSED CRITIC
… all this cloying, 'post-internet' clap-trap. Utterly grotesque. And these artists pretending that they're gay and black? Or making ghastly abstract paintings and telling everyone they're smoking crack? All so dreadfully macabre.
ART DEALER has stopped listening, and is waffling into her phone.
ART DEALER (into her phone)
Not to them, no, please say you haven't sold anything to them. Nooooooooo! Hold on –
She turns once again to VERY DEPRESSED CRITIC.
ART DEALER
Splendid stuff. Now won't you join us for dinner at the Very Cruel Butcher tonight Humphrey, to celebrate? Heaven knows you love a bottle of bubbly at someone else's expense.
VERY DEPRESSED CRITIC
Oh. Well, I suppose I could, as you insist.
The rest of the artist's entourage step closer to take a look. They appear confused, and concerned. REALLY STRUNG-OUT MODEL stoops down to hold CONCEPTUAL ARTIST kindly.
REALLY STRUNG-OUT MODEL
Are you, like, ok?
CONCEPTUAL ARTIST
No!
REALLY STRUNG-OUT MODEL
Uh are you sure?
CONCEPTUAL ARTIST
There's blood everywhere. And my ear has been blown off.
REALLY STRUNG-OUT MODEL
Well then how can you hear us?
She runs a soft hand through his hair, his pained expression slips from his face, and his trousers swell. He now has a rather prominent erection.
His ART DEALER strolls back over, curious.
REALLY STRUNG-OUT MODEL
Uh gross, why is this arousing you?
CONCEPTUAL ARTIST
Not sure. I'm just so lonely I think.
REALLY STRUNG-OUT MODEL
Shouldn't we, like, call an ambulance or something?
ART DEALER
No, not to the fair. Not on opening day.
REALLY STRUNG-OUT MODEL
But… there's a lot of blood.
ART DEALER
Hmmm. Ok. Anjelica – pumpkin – would you mind awfully clearing up the blood?
GALLERY GIRL (glossy hair, no-one can tell really what language she is speaking in) sticks out her tongue, haughtily, and strolls away to find a mop and bucket.
ART DEALER considers the mess.
ART DEALER
Actually, no. On second thoughts Anjelica, let's leave that blood out. It all looks rather refined, doesn't it?
CONCEPTUAL ARTIST
Really? It looks a little like yoghurt.
REALLY STRUNG-OUT MODEL
But…
HOLLYWOOD ACTOR
Oh man – what happened – have I shot you? Have I not shot you? I'm drawing a blank.
HOLLYWOOD ACTOR shoots CONCEPTUAL ARTIST a couple more times. He drops the gun on the carpeted floor (light oat with dark blood stains).
Screaming.
A crowd of VISITORS gathers. It is mostly befuddled by what is happening.
VISITOR 1
Ugh I just haven't had any time today to, actually, look at any of the art.
VISITOR 2
Is this some sort of performance? It looks really, really gay.
VISITOR 3
Shall we go for a cigarette? Yes? Ok fantastic. Do you have any?
It is very noisy. There is lots of shouting and wailing. OLD LADY GALLERIST (Swiss, looks at least a hundred years old) walks over from the neighbouring stand, and starts complaining noisily about all the noise.
OLD LADY GALLERIST
Can you all just shut the fuck up?! I have paid hundreds of thousands for my gallery's stand. I have a very, very important curator from France arriving any minute now. And you fucking people are ruining everything!
CONCEPTUAL ARTIST
But my ear?
OLD LADY GALLERIST
What of your fucking ear! Are you an artist or an elephant?! Just keep fucking quiet, the curator is coming!
CONCEPTUAL ARTIST
Oh. Sorry.
He moans almost inaudibly to himself. Over stomps OLD LADY GALLERIST and kicks him in the mouth with her high-heeled Prada boot.
OLD LADY GALLERIST
If you cannot keep quiet…
ART DEALER
Darling, please don't kick my artist in the mouth.
OLD LADY GALLERIST
I will do as I please, he is one of my artists as well! And what is this I hear, about you selling his work to those fucking clowns in Los Angeles?
Who would want this performance anyway? It is disgusting.
ART DEALER
Nonsense, although I'll have you know – you old Swiss witch – that a lot of wonderful, wonderful collectors are interested. However I have no desire to sell this work, not now, not whilst my artist is still dying.
OLD LADY GALLERIST
Oh… just stop all this horrible noise. The curator is coming! The curator is coming!
OLD LADY GALLERIST exits. A couple of VISITORS wander in brandishing a selfie-stick. They take a photograph of themselves over the bloody CONCEPTUAL ARTIST who is sobbing softly in between coughing up pieces of his innards. He weakly beckons HOLLYWOOD ACTOR over.
HOLLYWOOD ACTOR kneels beside him.
CONCEPTUAL ARTIST
I think I'm dying.
HOLLYWOOD ACTOR
Woah, how can you tell?
CONCEPTUAL ARTIST
This morning, over coffee, I heard about this Swedish artist who sodomises his assistants up against the wet paintings in his studio –
HOLLYWOOD ACTOR
Boys or girls?
CONCEPTUAL ARTIST
Doesn't matter. Against the wet paintings in his studio, and in his exhibition space, all while the staff are working in their offices. And I thought, why was I not making work like this? Is it too late?
HOLLYWOOD ACTOR
No, it's never too late!
CONCEPTUAL ARTIST
Can you take my bloody ear, around the fair, and hand it to one of my exes?
HOLLYWOOD ACTOR
Which one?
CONCEPTUAL ARTIST
Maybe the one that you blew off?
HOLLYWOOD ACTOR
Oh, yeah ok.
HOLLYWOOD ACTOR gathers up the broken ear, wraps it in the remnants of a cinnamon croissant-donut that is stuck to a napkin in his pocket, and vanishes into the milling crowds.
CONCEPTUAL ARTIST looks up at the very disappointed face of VERY DEPRESSED CRITIC, and sighs.
VERY DEPRESSED CRITIC
All of the most talented artists kill themselves, I think, only in their houses when they're old and wealthy, and nobody is watching. Oh. Standing in this room watching this artist dying, I feel… such sadness, about living in this world. Would that things might be another way, rather than the way they are. Is this really the best that we can do? Ah what have we done?
VERY DEPRESSED CRITIC stops and looks around the vast white tent as a wave of sorrow washes, warmly, over him.
VERY DEPRESSED CRITIC
God I hate art fairs.
ART DEALER
Well as I recall, no one actually asked you to come Humphrey.
VERY DEPRESSED CRITIC
What are they, except a misshapen oligarch's playground?
ART DEALER
But of course, and oligarchs need their playgrounds too. Their wonderful, wonderful playgrounds! We are standing – you and I – inside a magical, fluorescent chateau dedicated to obscene wealth and its playthings, floating from London to Miami Beach to Hong Kong. And isn't that fantastic?
VERY DEPRESSED CRITIC
No.
ART DEALER
Come, I've quaffed champagne on an arms dealer's yacht in Venice, I've snacked on golden eggs with the pneumatic mistresses of Russian oligarchs in the palace gardens, and I've enjoyed every moment, very much so! Now, Humphrey, you will join us for dinner tonight?
VERY DEPRESSED CRITIC
Yes, yes, ok… oh, look, a painting of a cat!
And VERY DEPRESSED CRITIC jogs off in his running shoes, across the corridor to look at a rather sweet painting of a cat.
EXT. PARK – EVENING
The light is drawing in in the park, casting long shadows across the sculpture garden, where children frolic and squirrels gambol under colossus-sized, sheet-metal statues of naked men rimming one another.
Under the boughs of a wise old tree, HOLLYWOOD ACTOR is chasing an owl which holds in its beak CONCEPTUAL ARTIST's severed ear.
INT. ART FAIR – EVENING
Around the corner comes SUPER CURATOR (rather slapstick gentleman with lime-green face and hands, black polo neck and bobble hat). He walks briskly into the space, slips on the gloopy mess of blood on the floor, and trips over the wobbling body of CONCEPTUAL ARTIST.
ART DEALER
Oh here he comes, at last.
SUPER CURATOR stands up and looks awkwardly to the side. Everyone excitedly moves to surround him: ART DEALER, FAMOUS RAPPER, GALLERY GIRL, OLD LADY GALLERIST, the REALLY STRUNG-OUT MODEL, TRANSSEXUAL PERFORMANCE ARTIST, even VERY DEPRESSED CRITIC – all indecently curious to hear what he has to say.
SUPER CURATOR
Happy to meet you… happy to meet you… happy to meet you!
He shakes a lot of hands, and very elaborately hugs FAMOUS RAPPER.
SUPER CURATOR
Everybody, please, may I have a cup of boiling hot green juice?
The CONCEPTUAL ARTIST's eyes widen with fear.
ART DEALER
But of course. Anjelica – cucumber – run and fetch a cup of boiling hot green juice from the shop? I'll have one too.
SUPER CURATOR
I was just this morning in one of the narrow, secret alleyways of Guangzhou, where an old Chinese magician was telling me I must only drink green juice, boiling hot green juice! I have been hanging out only with very old Chinese magicians of late, their thoughts are so important, and strange. They were all telling me that I must have these glowing crystals taped to my face, in order that my mind will work much more effectively.
SUPER CURATOR indicates two purple crystals taped to each of his pale green cheeks. Everyone nods accordingly.
Silence.
The TRANSSEXUAL PERFORMANCE ARTIST speaks (she has not spoken in six years).
TRANSSEXUAL PERFORMANCE ARTIST
What the hell is wrong with this man?!
SUPER CURATOR
Now, who is that down there?
CONCEPTUAL ARTIST
Hi…
SUPER CURATOR
Happy to meet you. So, is any of this really happening? Are you actually bleeding to death on the carpet, or is it only a spooky performance?
CONCEPTUAL ARTIST
I think it is happening. Really. Why won't anyone help me?
SUPER CURATOR
And I am wondering if this is even a real gun?
SUPER CURATOR picks up the gun and awkwardly fires it over and over again into the roof of the tent. He looks somewhat startled. Then he sticks his fingers into the missing part of CONCEPTUAL ARTIST's face, scoops up the blood and tastes it.
CONCEPTUAL ARTIST
Why are you doing this to me?
SUPER CURATOR
It tastes of blood. Fantastic… Fantastic! But of course what is really real, and what is unreal, and how can anyone tell?
He has some more of the blood and admires the CONCEPTUAL ARTIST's brains splattered upon the wall, grins, and takes a photograph on his phone.
SUPER CURATOR
Such confusion. Everything is confusion. Completely we have lost sight of the boundary between what is real and what is imaginary. Which is why pop is monopolised by Kim Kardashian, by her bottom, which is ballooning beyond physics and all possibility, just because she is having her own bodily fat injected into it – and it is a very confusing bottom, a wonderful bottom, its callipygian curves like Constantin Brancusi's Bird in Space! – however she protests that this imaginary bottom is real. That she is real! And many are hypnotised by her bottom, oh yes, and of course Kim is my close friend now, I had my photo taken with her in Basel!
VERY DEPRESSED CRITIC
Oh what a frightful bore.
SUPER CURATOR
But I am worrying that…
He takes out of his pocket a little notebook, cluttered with byzantine mind-maps and his own utterly undecipherable handwriting, and consults one of its pages.
SUPER CURATOR
I am worrying that so obsessed have we become with dreaming up other worlds, that totally we have lost touch with our own. Possibly we no longer can tell which is real. Possibly we no longer care. In most situations today one can – often, is actively encouraged to – celebrate one's madness. Indulgence taken to its absolute extreme. Vladimir Putin, just the other day, was attempting to fly a flock of Siberian Cranes over an arctic mountain range in a hang-glider. Why?! Our lives, our deaths, have all become a performance. Hooray! Now to the very-important-person room for some champagne!
Happily SUPER CURATOR leads everyone away to the very-important-person room, except for CONCEPTUAL ARTIST who cannot move, and has lost nearly all of his blood. And now the fair is closing. Everyone cheers, throwing money in the air; aromas of champagne and smoke waft upwards; applause plays through the intercom into the blood-sullied space.
THE END
***
Illustration by Dean Kissick