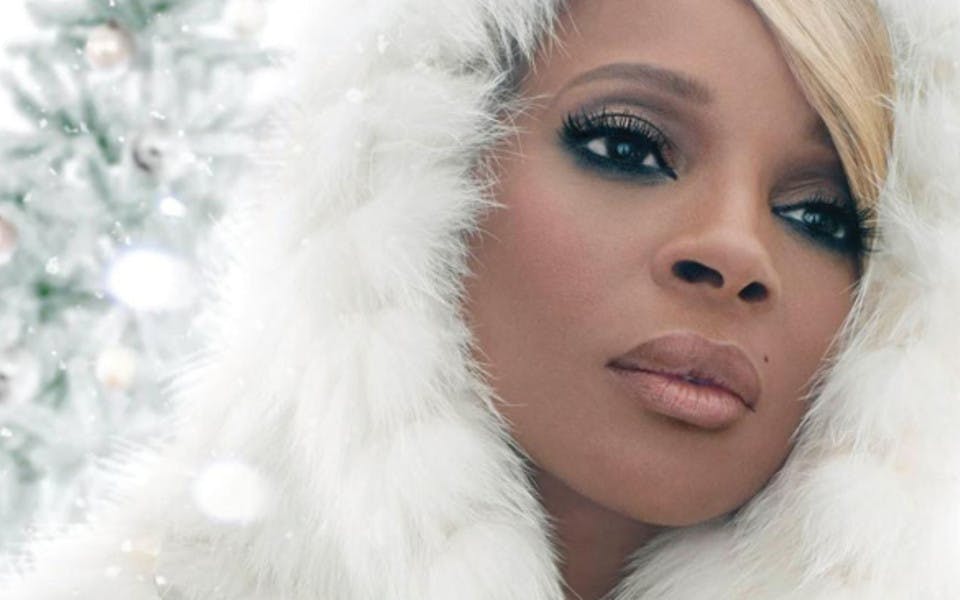 Mary J Blige and Mid-Wifing the Christmas Perrenial
I, too, have suffered through Mary J Blige's A Mary Christmas. She looks like Tito the Chihuahua from Oliver and Company on the album's cover, pensive and forlorn, and super-imposed onto a department store's "Meet Santa" photo set. It's a fitting façade to harbour the piss poor collabs with Barbra Streisand on When You Wish Upon A Star (since when is that a Christmas song?) and Jessie J on Do You Hear What I Hear? (I hear nothing but a shitty record, Mary). But there are few Christmas albums I outright refuse to listen to.
I love Christmas music. Put on a bit of Brenda Lee or Perry Como and watch me shake like the limp wrist of a Salvation Army volunteer brandishing his bells in front of an empty kettle. I know all the melismatic harmonies to *NSYNC's O Holy Night. I'm all for a classic. And although MJB's mood-mongering ain't no Vince Guaraldi Trio, it's still passable when up against such utter ear-manure as The Pogues' Fairytale of New York. There are a lot of bad Yuletide tunes – the genre just isn't as respected as the man's arrival it observes. For many singers, it's career suicide rather than a Billboard top ten birth, chaperoned by old dudes touting frankincense and myrrh.
Mariah Carey initially eschewed the idea of a Christmas album. The hitmaker was worried it would damage her hip-hop cred, which was a big deal in 1994. Forced upon her by her stifling older hubby – then head of Sony music, relationship puppet master and Sopranos extra lookalike Tommy Mottola – she relented. Carey yearned to record modern R&B bangers; Mottola only wanted her to put out power ballads. Carey lost the tug of war. Together with Walter Afanasieff, her songwriting partner of five years (he was behind hits Hero and One Sweet Day), they decked out a rented house in the Hamptons with lights and decorations to put her in a festive mood.
They were ready to cook up a Phil Spector hit similar to Darlene Love's Christmas (Baby, Please Come Home) which Carey had covered for 1994 album Merry Christmas, but were looking for a new, more uptempo sound. What they came up with was the surfeited Yuletide staple, All I Want for Christmas Is You. You know, that Bridget Jones anthem maligning materialism and dropping hints that you're desperately single (and looking). Once they'd figured out the tinkly chord structure in the studio, Afanasieff flew to California to have it recorded by a live band. It didn't sound the same with a backdrop of sound, so he scrapped that idea and went with his original, stripped down arrangement. While it's never been – and hopefully never will be – confirmed, many suggest that the lyrics are about Carey's scrumpy lover/manager Mottola. Barf. He even makes a cameo as Santa in the video.
Mottola and Carey's tormented relationship (they divorced in 1998) ranks high in terms of talent kept on a leash, only surpassed by Phil Spector and Darlene Love's painful master-slave dynamic. A record producer on the up-and-up, complete with a blowout and Spanish heels, Spector coerced Love to flesh out many of his other artists' hits with backing vocals, including a burgeoning girl group called The Crystals. He pulled the rug from under Love, along with her girl group The Blossoms, when he got them to record the song He's a Rebel. Unbeknownst to any of them, Spector rush-released it under The Crystals's name – the group it was intended for, who couldn't record it due to being on tour. It peaked at #1 on release in 1962 and nobody knew the difference. Nobody, that is, but Spector and Love.
She was royally pissed. What Love did receive credit for has now become a seasonal perennial, Christmas (Baby Please Come Home), on the 1963 compilation album A Christmas Gift to You. Originally, it was written for Ronnie Spector of The Ronettes, but she couldn't inject the song with the amount of emotion needed to rile up listeners. Enter Love, whose throaty register permitted her to belt out the gut-wrenching arc notes the song demanded. Never mind that backing vocals for her holiday hit were sung by Cher, the sleeper hit climbed the charts year on year until it solidified its status as a Christmas classic. It was also helped along by its slot in the opening of Gremlins. Since 1986, Love has performed it annually on the Late Show with David Letterman. As he retires, this year will be Love's last performance. Cher loved it so much she did a duet of the track with the unlikeliest of partners – an auto-tune heavy Rosie O'Donnell – for 1999's A Rosie Christmas.
Love also lent her smooth vocals to Bing Crosby's White Christmas. The bestselling single of all time – over 50 million copies sold worldwide – was actually written in the hot climes of LA. This sanguine tale of longing for snow was skewered for scrubbing all religion from its lyrics (apparently Jesus isn't the reason for the season). White Christmas was immortalized forever in Home Alone when Kevin McCallister croons into a comb and slaps aftershave on his face to The Drifters' version.
Irving Berlin wrote the song in 1941 and bragged to his arranger Helmy Kresa that it would be the greatest song ever written. But Berlin held off until he could get Bing Crosby to record it in 1942 for the film Holiday Inn. In the film, he introduces the song via a duet at the piano with blonde babe Marjorie Reynolds, and she picks up the lyrics like the High School Musical cast does, as if by Disney chip-implanted magic. The best part is when Crosby takes his pipe (presumably corncob) and hits the bells on the Christmas tree opposite the piano bench for added effect. Berlin snatched an Oscar for that song – the only Oscar he ever won. In all of its standout versions and covers, and there are more than 500 by Wikipedia's tally, Love's is one of only a handful to include the often cut opening verse: "The sun is shining, the grass is green/The orange and palm trees sway/There's never been such a day/In Beverly Hills, L.A".
"Huh? Beverly Hills? That's not Christmas!" someone said to me once when I was singing it before work in a department store shower. Just kidding, that's a scene from Elf. Yet there is a slew of hot holiday tunes to round out the festive roster. One of the best comes at a moment of crisis: a dispirited, bonus-less Clark Griswold sticks his nose against the kitchen window in National Lampoon's Christmas Vacation; he envisions the sexy lingerie counter lady (Nicolette Scorsese) bursting forth from his future swimming pool, dripping in sex, to a soundtrack of the Hawaiian-themed Mele Kalikimaka, sung by Bing Crosby and the Andrews Sisters. That is, until he's snapped out of it by his trailer-trash niece asking about Santa. What a boner killer.
Much like the Vacation swimsuit daydream and Kevin McCallister's Edvard Munch aftershave scream, there are plenty of songs that cannot be crowbarred from their visual counterparts. The scenes are intrinsically bound to their pop culture breakout. For example, 1964's Santa Claus Conquers the Martians marked its place in the zeitgeist as one of iMDb's bottom 200 films. It's now a cult treasure, possibly due to the outright skin-crawling kiddie chant that opens the film. Milton DeLugg's Hooray for Santa Claus is god awful, out-annoying only the idiotic Grandma Got Run Over by a Reindeer: "You spell it S-A-N-T-A C-L-A-U-S/Hooray for Santa Claus/ He's fat and round, but jumpin' jiminy/He can climb down any chiminy!"
There's a whole genre of Xmasasperation, which includes such esteemed entries as I Farted on Santa's Lap (Now Christmas is Gonna Stink for Me), All I Want for Christmas is My Two Front Teeth, with the drawn-out, whistle ending and a baby-voiced Gayla Peevey, and I Wanna Hippopotamus For Christmas. On the other hand, a lot of great songs were given a boost by cameos in hit films. Auld Lang Syne comes to mind, polishing off Frank Capra's masterpiece It's A Wonderful Life. It arrives just after that most famous line, "Every time a bell rings, an angel gets his wings!", where the 1919 version of a Kickstarter to save Bailey Building and Loan reaches its donation goal.
One story takes the cake. Vincente Minnelli's Meet Me In St. Louis boasted three original songs, one of which became an instant classic. On the eve of their move to New York due to daddy's job promotion, Tootie (Margaret O'Brien) waves goodbye to her snowmen and her sister Esther (Judy Garland) wipes away her tears while she sings Have Yourself A Merry Little Christmas in her waterfall contralto over the languid tinkle of a music box. Released in January 1945, Meet Me In St. Louis wasn't even a holiday film and the original lyrics of the song have been described as "suicidal".
They included the line, "Have yourself a merry little Christmas/It may be your last". Woah. Not a great one to spin if you're spending Chrimbo alone. When Judy got a whiff of the bleak lyrics, utterly devoid of Christmas cheer, she demanded they be rewritten. "If I sing that song to little Margaret O'Brien," she said, "the audience will hate me. They'll think I'm a monster." Hugh Martin – the pessimist jerk who wrote the song – initially resisted. That is, until one of the actors called him a "horse's ass" and threatened to never speak to him again. "It may be your last/Next year we may all be living in the past" became "Let your heart be light/Next year all our troubles will be out of sight".
Rightly, all roads lead back to Home Alone. The version of Have Yourself A Merry Little Christmas that Mel Tormé sings makes the end of the film, when snow softly falls in front of the window as Kevin sends off the Wet Bandits with a smirk and a wave, that much funnier.
And, although Mary J Blige loaded the Christmas canon with a backfiring dud, I do appreciate her rendition of Petit Papa Noël, if only because the only other good versions are by my Canadian faves Céline Dion and the lesser-known Charlotte Diamond. So even if you happen to be a complete Grinch, or an eye-rolling Hugh Grant wheeling a trolley around the supermarket when Santa's Super Sleigh comes on over the loudspeaker, just remember that not all festive tunes were created by Christmas-worshipping crooners. And on your way out, you can tell the cashier: "Keep the change, ya filthy animal."
***
Photograph by Creative Commons