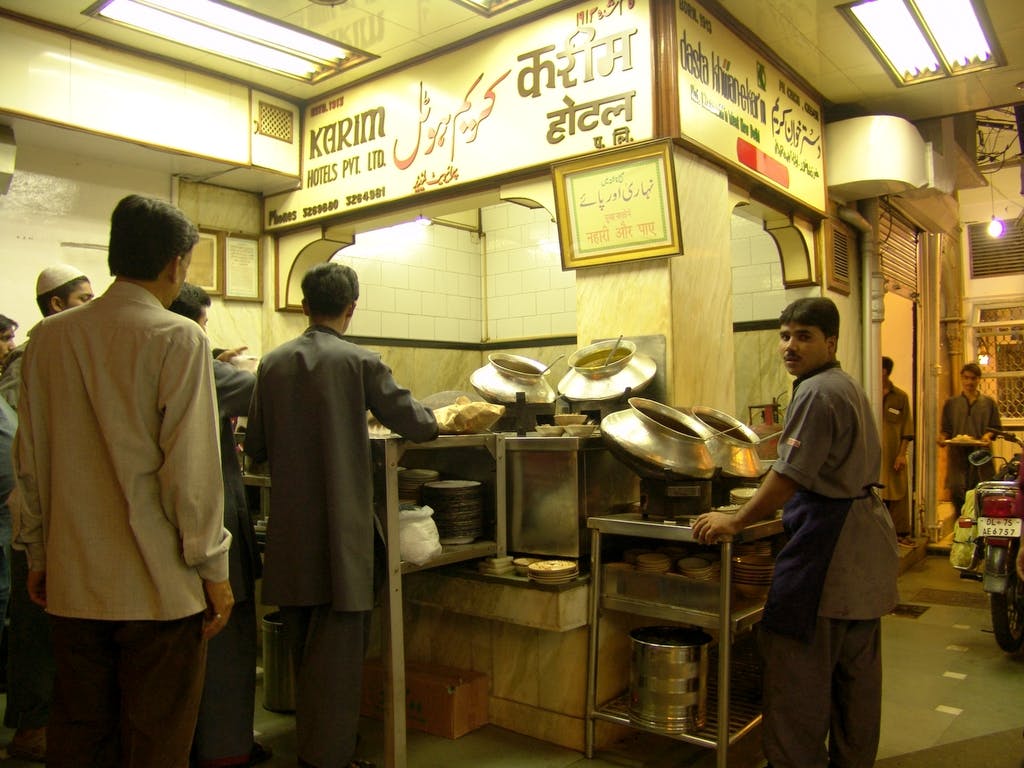 On the east side of Humayun's tomb, a young European woman in leggings and a black sports t-shirt positions herself so that she is perfectly framed by the 16th century arch behind her. She fixes her hair, lies down on the ground and pushes up into the yoga pose commonly known as the Bridge. A few metres away, her boyfriend stands, his iPhone held out in front of him, ready to capture this moment for all time. A solitary visitor wanders aimlessly in and out of shot, like a duck on a canal towpath. As other visitors move into the amateur photographer's line of sight, the scene is finally set. The iPhone flashes into action: Instagram gold. The likes shoot up.
From the middle of the 16th century to the middle of the 19th century, the Mughal Empire ruled much of Afghanistan and the Indian subcontinent. The Mughals were Muslims from Central Asia whose first emperor, Babur, was descended from Genghis Khan. Humayun was the second emperor, a man considered – by the brutal standards of imperial rulers of the time – to be naïve and kind because he forgave a number of betrayals. He was superstitious and fascinated with astrology and the occult. He chose the colours of his clothes in accordance with the movements of the planets and he never entered a house with his left foot going forward.
Humayun died falling down some stairs on his way to pray. His widow ordered the construction of his tomb, which took eight years to build and is one of the main tourist sites of modern Delhi. Other cultures may have tried to supplant their architectural vision at the heart of the city's consciousness – Edwin Lutyens's grandiose, neo-classical New Delhi was an expression of the ambition and insecurity of the British Raj – but it is the Mughal buildings that draw the visitors. And so, the capital of a majority-Hindu country, led by a Hindu nationalist government, remains Islamic at its core.
At the Mughal tombs, fort complexes and mosques, the selfie sticks threaten to outnumber the birds that swoop and soar around the domes and minarets, that waddle through the interiors and nest in the rafters. At Humayun's tomb a group of Indian lads in sunglasses and factory-distressed jeans hold their selfie stick way out over a parapet in a bid to achieve the most spectacular angle possible.
In the grounds surrounding the tomb, the legacy of British rule can be seen in the green, manicured lawns watered almost constantly to allow them to grow in a climate so unlike that of the people who truly prize green, manicured lawns above all others. A student from one of Delhi's many satellite towns approaches me and asks for a selfie. This happens a few times and it bothers me. It seems strange that, in a global metropolis, my whiteness can act as a sort of blessing or token to some. I tell Indian friends that I'm surprised that this still happens. They tell me I shouldn't be. When it comes to colonialism, there is no end; its tentacles are many and far reaching. I am looking to India to provide me with some kind of authenticity, to lead me back to my true self, but my presence, my skin and all its terrible, aspirational associations can also be used as an endorsement of fallacy, a memento collected on the path from one tomb to another.
It is December and I have come back to Delhi from the Himalayan foothills of Kumaon, in the northern state of Uttarakhand. My reasons for being there could hardly be more clichéd: the feeling that my work was pointless, the end of a relationship, and some vague ideas about finding myself. I make a lot of jokes about Eat, Pray, Love, as if making those jokes elevates what I'm doing to an intellectual and spiritual plane a Julia Roberts movie has no hope of understanding. I make a lot of jokes about how I'm depressed or having some kind of breakdown, as if making those jokes stops those things from being true.
My friend Rahul, a clothing manufacturer in his fifties who wears white robes and whose hair reaches his waist, giving him the look of an Indian Jesus, takes me down a dusty trail off the busy road that runs from Mehrauli, in south-west Delhi, to Gurgaon, a city that bleeds into the southern edge of the capital. Here lies the tomb of the Sufi poet Jamali and his lover Kamali. The sexuality of these two Mughal men remains disputed and officially unacknowledged – the information around the tombs makes no reference to it – but the anecdotal evidence for their life-long partnership is strong.
Part of the complex is locked, but we bribe a guard and are let in. There are no other tourists around. The experience is one the guidebooks extol: local, "authentic", real. I see two men holding hands. I imagine the strand of gay life in Delhi – a life that is still technically illegal, thanks to laws enshrined during the Raj – running from these two men back to the Islamic poets of the 16th century and before, on and on into a past that began as a settlement on a riverbank.
The next day, I am alone. Without an Indian friend, I am just another tourist, albeit one with lofty pretensions and a distaste for selfies. At the metro stop near the Red Fort, I find someone who will take me there. Towering over the surrounding area, the fort lives up to its name: it is red. Just inside the entrance, an arcade that once housed workers is now lined with shops selling postcards, jewellery and other assorted trinkets.
Once again, the birds are everywhere. Pigeons line the internal domes of the various tombs and buildings. There are more lawns. British lawns kept in the British way, just as at Humayun's tomb – a reminder of the Raj's attempt to re-purpose this Mughal wonder, to turn it into something of its own. There used to be life here, now the people move in herds round the complex, clutching their mobiles as if if they'd let go, they would cease to exist themselves and be walled up in one of the mausoleums they stare at, their mouths open, the words of a tour guide bouncing around uselessly inside their heads for eternity.
"Just take the picture," one girl snaps at an elderly relative, as she poses with her boyfriend by the Lahore Gate. The gate is so named because it faces in the direction of the now-Pakistani city. In the 21st century, India and Pakistan are at loggerheads: they fund each other's domestic enemies, support terror groups intent on wreaking damage on their rival and skirmish in the disputed state of Kashmir. Under the Mughals, Lahore and Delhi were two important cities united. Information flowed between them. These days, a small, unassuming man who runs a shop in the printing district of Delhi takes messages between the Indian and Pakistani governments. His identity is a secret; his diplomatic role is off the books. But he has his counterparts in Pakistan and China. Behind the public posturing, men and women like him operate in the back channels, the authentic relationship between their governments obscured and confused.
From the Red Fort I make my way to Karim's, a restaurant that lies down a small lane in the heart of Old Delhi. It's less than a mile away, but I still can't find my way there and so resignedly, like any other tourist, I flop into the back of a rickshaw. Founded in 1913, Karim's is the kind of small, busy hive of no-nonsense cooking that crops up in the occasional Western newspaper article about "authentic" food.
Rahul tells me to order four things – istu (mutton stew), mutton korma, mutton burra kebabs, sheermal (a type of flatbread). That's a lot of old sheep, I think, as I wash the delicious, fleshy, greasy meat down with a cardboard cup of Pepsi. Except mutton here means goat, something I don't find out until after my meal. In the restaurant, I've made out like I'm an old pro – the realest guy who's found the realest place, but I didn't even know what I was eating.
This food, like the Red Fort, is Islamic. A stone's throw away lies the Jama Masjid, one of the largest mosques in India, built by the fifth Mughal emperor Shah Jahan between 1644 and 1656. Its courtyard can hold up to 25,000 people, although it seems like that would be dangerous. As I climb the steps, I hear the call to prayer. At the entrance, I'm told that I have to wait because I am not a Muslim. I wonder if my aunt, a white British Muslim, would have had trouble getting in at this time. I wait outside with the pigeons and the visitors.
A huge white coach crawls past, taking up three-quarters of the road. The passengers inside look air-conditioned. Some of them are chewing. On sighting the mosque's entrance, they all bring out their cameras, push them to the window, and snap. The coach moves on, round the mosque. It doesn't stop. The passengers don't get off. Can you get a good enough image through glass that thick? Will they ever look at these pictures again?
I imagine a library, like Borges's library of Babel, a cavernous underground space rising to great heights, its walls lined with cases containing these photographs and all those like them, the uncared for and un-viewed images of the world's storied historical sites. The photos are digital and so, because of this, they don't crumble into ash but simply disappear if they are deleted from the machines they live inside, or when these machines become obsolete and the tourist, on transferring data, back in Idaho or Gloucestershire or Moscow, decides that the photo is not worth saving.
Inside, the mosque is beautiful. But this is a community under siege. Across India, a debate about tolerance rages. The country's governing Bharatiya Janata Party (BJP) are Hindu nationalists with strong ties to the Rashtriya Swayamsevak Sangh (RSS), a right-wing group that has been around since 1925. The RSS argues for the more direct enforcement of Hindu values – including a total ban on the slaughter of cows (a sacred animal in the Hindu religion) and the eating of beef – and for further segregation between Hindus and their fellow Indians, be they Muslim, Christian, Jain, Sikh or from any other minority background. For these Hindu nationalists, being authentically Indian is tied up with being a Hindu. Veneration of the Mughals sits uncomfortably within this.
India's president, Narendra Modi, began his political life in the RSS. In 2002, Modi was the chief minister of his home state of Gujarat when a series of vicious riots broke out, leaving up to 2,000 Muslims dead and thousands more displaced. One of the victims was Ehsan Jafri, a member of the Congress party, the BJP's rival. Jafri was sheltering a number of women and children in his house. When a mob arrived wielding machetes, he pleaded for sanity. Instead, he was killed.
The title of one Human Rights Watch report on the killings, "We Have No Orders To Save You" http://pantheon.hrw.org/reports/2002/india/, highlights a widely held belief that Modi – still known to some as the "Butcher of Gujarat" – and his government either instigated or allowed the mass killing of innocent people, most of them Muslims. A month before my visit to the Mughal sites of Delhi, Modi had been in Britain, speaking before a sold-out crowd at Wembley Stadium and being fawned over by David Cameron.
I meet Rahul in Old Delhi and we drive home. It takes hours. Delhi, like most of the world's largest cities, grows bigger and bigger by the day. The pollution is terrible, visible and constant. Human beings weren't meant to live in places this large. Shrouded in smog, billboards for dubious multi-national corporations like Nestlé, Vedanta, Coca-Cola and HSBC look down on us, the ants crawling home at the end of a day. I doze and dream of car crashes. I doze and dream of naïve Humayun and gay Jamali. They are taking selfies.

***
Photograph by Oscar Rickett