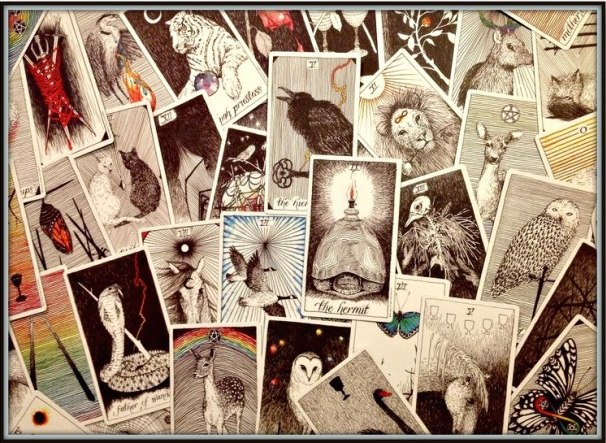 I've been obsessed with psychics since I can remember. I don't know what it is. Tea leaf readings, the magnificent tarot, exalted ghosts of the past, peculiar mediums – you name it, I find it enrapturing. I'm so preternaturally drawn to these themes that I'm developing a television series about them. A fascination so poignant and deep, I can daydream scenarios for hours on end.
When I think back to the films that struck me as a child, the one that left the most indelible mark was the haunted glamour of Hitchcock's Rebecca. As Maxim De Winter, played by Laurence Olivier, recounted of his double-crossing deceased wife: "She stood there laughing, her black hair blowing in the wind, and told me all about herself – everything. Things I'll never tell a living soul." Rebecca described powerfully as "the most beautiful creature I've ever seen" by his best friend, Crawley. Her macabre "R" monogram visible throughout her grand home of Manderley. I was infatuated with this marvellous apparition, her presence was so palpable. Meanwhile, Joan Fontaine's very alive, demure character, a rival for De Winter's affections, remained nameless and plain in comparison to the one living in my imagination.
You see, my fascination with mysticism was planted as a child, before I could even speak. Persians are prone to telling your fortune with Turkish coffee readings and spoken word excerpts from the mystical poet, Hafez. When my grandfather passed, my mother said he was speaking to his deceased siblings on his deathbed. She stated very matter of factly that she would find him sitting up in bed, reminiscing about his childhood with those who had passed. I would ask her to repeat the story ad nauseam. What intrigued her is "they" (on the other side) kept talking about me, her daughter, who'd they'd never met, predicting profound things. Some predictions have come true; others remain to be seen.
Is mine a gothic, morbid preoccupation? Probably. If we could live without the fear of "what if?", we certainly would be living a divinely different experience. I've realized that in order to survive as a species, we simply cannot go around thinking about death on any "normal" scale. It's like a vice grip against living and breeding. We must live in denial in order to cope, or in my case, develop an overwhelming fixation with mastering a sense of control over what may or may not happen.
New York City, my spiritual home, is coincidentally the breeding ground for the frenzied spiritualist movement that swept across America in the mid 1800s, an ominous time in US history when psychics were go-to therapists and the White House regularly held séances. This devotion continues today in a city that has more occult storefronts than bodegas. In my experience, a reading can be anything from groundbreaking to a gentle nudge. I may get significant insight that propels me into the future, inspired, or a kernel of an idea for a story – either way, it's worth it. Yet, finding the "right" psychic is as crucial as finding the right therapist or anyone you would entrust with intimate details of your life. You must speak the same language.
When I was about to relocate to New York from California in my 20s, I saw a psychic by the name of Teresa. She said nothing of my impending move, which I told her nothing about, but instead went on about me marrying a man from Snowmass Village, Colorado. I'd never heard of Snowmass Village, was young, single, and had zero desire to get married at this stage in my life. She talked about my guides for a while and did a decent enough tarot reading, but I left perplexed and heavy-hearted after she insisted that Snowmass was indeed my calling. I brushed it off and packed my life up for the Big Apple.
A few days before leaving, I decided to get an astrology reading to steer my first year there. I walked in excited for my session and much to my chagrin, saw her: Snowmass Teresa. She was hosting the event for the out of town guru. The moment she saw me enter, she hummed the wedding march tune, her doughy hands wafting through the air like an obtuse conductor, a stupid smile smeared on her face. Louder and louder she sang, "Here Comes the Bride" for my amusement only. I was aghast. Let me remind you, I was in my early 20s and single. But she went on and had to gall to tell me that I'd be married by Thanksgiving! (Thanksgiving is the last week of November. This was late September). The absurd prophecy made my blood boil. Days later, I emailed saying it was shortsighted and presumptuous to offer such things to a 22 year-old single girl and that I found her behaviour borderline negligent.
"I've sat with your question and don't know why I'm getting this message," she answered indignantly. I wanted to throttle her. I swore off psychics forever. Thanksgiving came and went. I thought about it in passing, laughing at her futility. Here I am, downing tequila shots in downtown New York, you charlatan! I felt oddly triumphant, but irate. A week later, news emerged that made me hot under the collar: I learned my ex-boyfriend was married on Thanksgiving day. A flush crept across my cheeks. OK, so maybe she got her wires crossed … Still, Snowmass Village? The whole thing was unacceptable. I decided that psychics were there for yellow bellies and gutless morons.
Some people believe that all psychics do is plant a seed. By merely suggesting something to your subconscious, your destiny changes forever. I recall reading that Natalie Wood's fate was sealed when her mother visited a Russian psychic who gave her this ominous prediction: she warned that the four-year old Natalie would be a famous actress known the world over and would one day die by drowning. Thankfully, this behaviour is deemed unorthodox nowadays and modern psychics would never hand you such bad news. With the premonition in hand, Natalie's mother duly put her to work in Tinseltown at a tender age and she indeed took the world by storm. Yet, for the remainder of her life, Natalie had a fear of water so acute that she would have panic attacks whilst filming around it, and as a result, she never learned to swim. It's chilling that she died off of a boat in Catalina by drowning in the end. The prediction had paralyzed her to such a degree that she was unable to save herself.
By the same token, I must also stress how much hope and joy a psychic can bring, particularly in dismal times. In my California college days, a friend was dating a well-known pro-skater. Our interaction existed mainly around a bong, camping on the Highway 1 coastline, and frequenting heavy metal skate parties. This perfect California couple that skated and partied together, fell in love over the course of a decade. Tragically, he passed away on Mother's Day many moons ago. His 22-year-old heart gave out and he collapsed in front of her entire family. This insanely beautiful creature was gone in a flash. The funeral came and went. We were all so young we didn't know how to process it. I recall seeing my friend a year later. Despite trying to move on with her life and even dating, she was suffering so cruelly. She confided that she had started seeing psychics. One in particular said her boyfriend couldn't bear watching her in so much pain and would be coming back to her side. On the next visit, she was told to go home at once because she was pregnant; his energy was back with her. She went home and took a test – the psychic's prediction was right. Her son today carries his name. It's something I'll never forget and it gives me chills every time I think about it. I suppose it's because of these phenomenal, inexplicable moments that I don't care whether it's a hoax or not.
Quacks, some people call them, understandably so in many cases. It's a profession that comes with a great deal of responsibility. The biggest danger is it can turn into a crutch. If you need validation for life's every crossroad, surely you could lose sight of your intuition. However, if you're self-aware, grounded, and follow your gut, a reading every so often will never be a slap in the face. And despite the jumbled Snowmass wedding prediction, I've since had stellar readings. I've heard of enough deceased relatives of friends get into contact to quell them, their future babies and impending proposals predicted with laser precision to be a believer by now. Sure, one or two things may be off, but if they're truly gifted, you'll be pleasantly surprised when they whisper the secrets only you know and the list of exciting events about to befall you. Especially if they come true.

***
Photograph by Creative Commons